Roofing 101: Wood Shingles and Shakes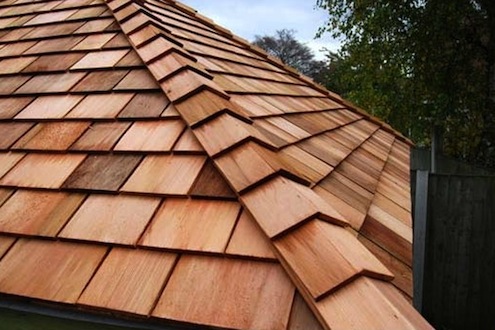 Looking into different roofing options for your home?  Well, here's the lowdown on wood shingles and shakes.
When it comes to wood roofing, there are two types, shingles and shakes.  While these materials aren't necessarily as practical as asphalt shingles, you can't deny how good they look.
According to BobVila.com, wood shingles are "made from cedar, spruce, or treated pine, wood roofing is especially appropriate for older homes and those based upon historical styles."
Wood shingles will run you between $400-$700 per square foot and and shake roof will be between $600-$900.  That's 3-6 times more than the cost of an asphalt roof, according to BobVila.com.
It is important to consider maintenance when buying a roof as well, and wood shingles and shakes require more maintenance than other roofing materials.  For example, wood shingles and shakes require, "periodic treatments with preservatives and fungicides in order to keep from drying out, warping, cracking and being attacked by mildew and fungus," according to BobVila.com.
Exterior Specialties of PA is here to help with all of your wood shingles, wood roofing and roofing repair needs.  Call us today at 215-453-9180 for your FREE estimate!