How to Take Care of a Roof Leak Before the Contractor Comes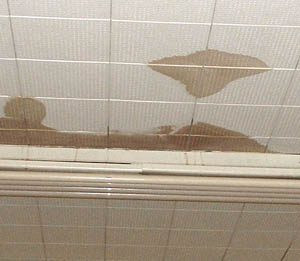 Since there have been a bunch of thunderstorms in the area lately, you may have noticed a roof leak issue.  You'll want to get it looked at by a professional contractor, but before they arrive, here are some tips to keeping that leak under control, courtesy of eHow.com.
1. The first and perhaps most obvious place to look for a roof leak is directly above the leak in a ceiling or exterior wall. Use a flashlight to inspect the attic floor over the leak while it's raining. Look for standing water, water stains, mold, wet insulation or other exposed insulation.

2. Examine the underside of the roof for wetness or mold around points of penetration (plumbing vents, chimneys), wherever different roof planes intersect (valleys) and near dormers. These symptoms indicate holes in the flashing or faulty flashing installation.

3. A leak away from such locations suggests a problem in the roofing material. Keep in mind that water may travel sideways before passing through a joint in the roof sheathing, and may travel in a horizontal joint before falling on the floor or ceiling.

4. Take measurements from points inside that you can also locate from outside. Measure down from a ridge and horizontally from the center of a valley or sidewall; or measure distances from a chimney or other point of penetration.

5. If your ceiling is attached to roof rafters, as would be the case for a cathedral ceiling, all you can do from inside is take the measurements that will help you locate the leak externally, and attempt to control the damage internally.

6. Water can travel on the underside of sheathing or down roof rafters before dropping off in one or more places. To control where it falls, tack a piece of string into the stream of water and let it hang into a bucket. The water will tend to follow the string.

7. Poke or drill a hole in your ceiling to let the water through. This technique prevents the water from spreading across the top of the ceiling to other areas; it prevents the ceiling from becoming saturated, eliminating the chance of collapse and often the need for replacement; and it allows you to collect water from below using the string-and-bucket method.

8. Using any measurements or other information you gathered indoors, make your initial outdoor observations from a ladder and/or using binoculars. Do not walk on a pitched roof during rain or as long as the roof is wet. A wood roof is particularly treacherous.

9. Look for leaves and other debris slowing the natural downward flow of water, as often happens in valleys and adjacent to or above any roof penetration or dormer. If there is snow on the roof, an ice dam may have formed at the roof's lower edge, causing water to back up under overlapping layers of roofing materials. Remove the obstruction if you can get to it safely.

10. If or when you can safely get close enough, examine metal flashings for corrosion or open joints where they connect to a chimney or other roof penetration. You can temporarily patch metal flashings, but replacement is the only permanent solution. Typically, you can replace cracked or dried-out rubber gaskets on plumbing vents.

11. Pay particular attention to any areas already covered with black flashing cement; these indicate locations of previously repaired leaks. Look for pinholes or cracks, which often occur as the material ages. Make temporary repairs by applying flashing cement with a putty knife.

12. If or when you can safely get close enough, inspect attachment points for any antenna, satellite dish or other object screwed or nailed into the roof. A dab of roof flashing in good condition should cover each fastener. The best solution is to avoid mounting anything on your roof in the first place.

13. If you determined from inside that your leak is midroof and therefore not related to flashing, look for damaged or missing asphalt shingles. On wood roofs, look for cracked or badly cupped or warped shingles or shakes. Look for joints in one course that fall less than 11/2 inches (4 cm) to the left or right of a joint in the course below. Flat or nearly flat roofs generally require very close inspection to locate damaged or badly worn areas.
Exterior Specialties of PA is here for any of your leak repair and roofing needs. Call us today at 215-773-9180 for a free estimate!