How Often Should You Clean Your Gutters?
Homeowners ask this question a lot, how often should you clean your gutters?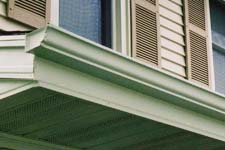 The answer is very simple, you should clean out your gutters at least twice a year. You should clean them more if they appear dirty. The best way to clean your gutters is to hire a professional. This will ensure that your gutters are cleaned properly and safely.
By having a professionally clean your gutters you can be certain that all the dirt, leaves and any other objects are cleared from your gutters. Also they will make sure your downspout is clear and draining properly.
If you have a routine system in place to clean your gutters it will help the life span of your gutter and roof. The Spring and Fall months are the best time to check and clean your gutters since these are the months with the most leaves, rain and debris that may clog your gutters.
If gutters are not cleaned properly it can result in mold, fungus and or bacteria to grow in your gutters and up in your roof. Thus needing to be replaced.
As always call us for any gutter questions.