Energy-Efficient Window Replacement Options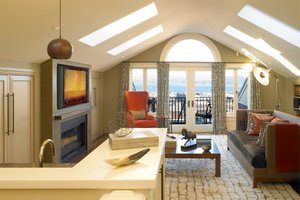 Choosing the right window replacement is a very important decision, as it will greatly impact your energy costs for years to come.  Relatively new window technologies such as low-e glass, smart windows and electrochromic glazing, can provide you with options that didn't exist 5-10 years ago.  They target the two largest energy uses in commercial buildings — lighting and space conditioning.
Here is some information about Low-E glass and Electrochromic Glazing, courtesy of FacilitiesNet:
Oldest of the "new" technologies, low-e glass uses an ultra-thin metal oxide coating to maximize performance. Although the coating itself is not visible, it limits solar heat gain while transmitting light. Depending on a facility's location, facility managers can choose low-e glass that admits more solar heat gain (in heating-dominated climates or for passive-solar use) or limits solar gain (for cooling-dominated climates). According to DOE, low-e windows generally cost 10 to 15 percent more than regular windows but can reduce energy loss by as much as 30 to 50 percent.

"Low-e technology provides a good and reliable means for improving insulating glass performance," says Michael Louis, a senior principal at the engineering firm Simpson Gumpertz & Heger.

A newer option is known as dynamic glazing. What it does is simple but dramatic: It changes color to control the amount of sunlight that enters a space.

In the most common type of dynamic glazing — electrochromic glazing — the presence or absence of electric current in the coating renders the window opacified or clear.

Electrochromic coatings are a nanometer-thick, multi-layer film, says Stephen Selkowitz, department head, building technologies, environmental energies technology division at Lawrence Berkeley National Laboratories. "Transparent conductors form the outer layers of the stack, an active electrochromic and passive counter-electrode layer form the middle layers, and an ion-conducting electrolyte layer forms the center portion of the stack," he says. The glazings can be manually or automatically controlled. The technology does have a small delay in most uses, from several seconds to several minutes.

Electrochromic technology relies on a network of wiring and controls that runs into and out of the glazing pockets of window (or curtain wall) assemblies. The installed system has to accommodate that network while maintaining weather-tightness for exterior applications. The network also has to be maintained once the building is in operation.

"[Electrochromic glazings] are new to the market and finding niche applications," says Ray McGowan, senior manager at the National Fenestration Rating Council. "This technology may realize market gains in the near future." Currently, many applications are for interior spaces.

One reason McGowan says he believes in the promise of dynamic glazing is because of its potential for solar heat control. "Dynamic glazing enables precise solar heat gain coefficient control to limit heat gain during high cooling periods and increase heat gain during heating periods," he says.

Another dynamic glazing option — thermochromic — relies not on electricity to determine opacity or translucence, but on solar radiation. This technology uses a tinted thermochromic layer that warms up and darkens in direct sunlight.
Exterior Specialties of PA is here to help with all of your window replacement,  window installation and window repair needs. Call us today for your FREE estimate at (215) 453-9180.