Energy Audit: What's Best For You?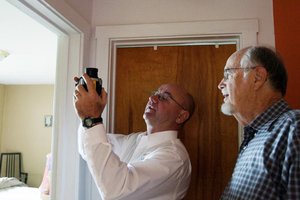 Do you think your home's inefficiencies are bumping up your electric bill? Why not do an energy audit and see where your home's efficiency issues are?
Houselogic has some tips on choosing the type of energy audit that's right for you! Whether you do your own or hire a professional, it will give you a hint as to what needs to be repaired and/or replaced around your home. Houselogic says it can even save you 5-30% annually on your electric bill once you've made the changes needed after the audit. Here are some ways to approach an energy audit courtesy of Houselogic:
Use an online energy audit questionnaire

You can find them at the website for your local utility or municipality, or at government-supported websites such as Home Energy Saver or Energy Star.

Online questionnaires immediately calculate areas where you can achieve savings. Be prepared to answer specific questions about your home energy usage and costs, such as:

Energy costs and usage for the last year.

The energy sources for your home (gas, propane, electric).

The square footage of your home.

The number of gallons of water your toilet tank holds (often stamped on the inside of the tank).

The R-value of insulation in your attic (sometimes printed on the paper bats), but you won't have to climb into your attic or poke around behind the water heater.

Cost: Free.

Conduct a DIY energy audit

Got a flashlight, ladder, measuring stick, safety glasses, dust mask, screwdriver, and a stick of incense? If so, you're equipped to inspect your home. You'll also need to dig out utility bills and do a little research about optimal insulation requirements for your area. Expect to spend 2 to 4 hours.

Cost: $50 if you have to buy the tools; otherwise: no cost.

Hire a professional energy auditor

Even if you conduct a DIY energy audit, it's a good idea to double-check your diagnosis with a professional energy auditor, especially if your audit reveals you have problems. An auditor knows homes well enough to advise you on how to get to the source of a problem, saving you a lot of trial, error, and perhaps unnecessary expense.

There are two types of professional energy audits:

Visual inspection. Along the lines of DIY energy audit, this evaluation will give you the benefit of the energy auditor's keen eye and experience. You'll come away with plenty of ideas for improving your home's carbon footprint. Cost: $150.

Diagnostic inspection. Using hi-tech equipment like thermal scanners and duct blasters, a professional energy auditor will shake down your house for air leaks, noxious fumes, and spotty insulation. Cost $400 to $600.
Exterior Specialties of PA is there to help with any of you roofing, window replacement, and window repair needs. Call us today at (215) 773-9181 for a FREE estimate today!